I'm sitting here on a beautiful Sunday morning a little more than halfway through our 2018 wedding season, feeling so incredibly grateful for my team. I cannot say enough about these ladies: Julia, Katie and Lauren. These amazing ladies do so much for me and our clients on a daily basis, so I wanted to take an opportunity to say, "Thank you," and re-introduce them to you.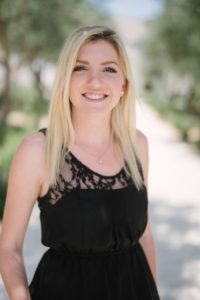 Julia, Marketing Manager & Lead Coordinator, recently graduated from Cal Poly San Luis Obispo, with a degree in Communication Studies and a minor in Psychology. She has spent the last four years immersing herself in various on and off-campus organizations and filling leadership roles within those groups. She has diverse marketing experience for BIA Bay Area, USAC Reggio Emilia, and Asia Croson Photography, as well as event design and coordination for weddings and various sorority events. And, here's a fun fact: Julia also works part-time for one of our fellow SLO Wedding Planners, Tracey Costa with Heart Melting Events.
Katie, Assistant Coordinator, is a fourth-year at Cal Poly San Luis Obispo, earning her degree in Experience Industry Management. She loves her field of study because she gets to plan the coolest events! When she's not in class, she can be found practicing yoga or in the dance studio burning up excess energy. She loves promoting healthy lifestyles, which includes planning events that bring joy, cooking plant-based meals that promote health, traveling to expand cultural awareness, and teaching dance to promote movement and expression. Her goal in life is to help everyone live their best lives. Fun fact: she also loves my two dogs, Bella and Liam, and helps me take care of them during busy wedding weekends.
Lauren, Assistant Coordinator, is also a fourth-year at Cal Poly San Luis Obispo, earning her degree in Experience Industry Management with a concentration in Event Planning. She has a wide variety of experience, having worked as a waitress, a summer camp counselor, and as the events chairman in her sorority. She has always dreamed of pursuing a career as an event planner, and has a passion for each event she helps coordinate. Fun fact: she's my Insta story queen and I am so appreciative of her assistance with all my social on a wedding day!
It truly takes a team over here at Amanda Holder Events, and I could not be more grateful to my team, our vendor teams week in and week out, and our wonderful clients for trusting us with the most important day of their lives. We absolutely love what we do! Cheers to an awesome second half of the season! And cheers to LOVE!
*Staff photos courtesy of Yvonne Goll Photography.